About
The next meeting of the RCTB will be a conference call on Thursday, September 21, 2023, starting at 11:00 am Eastern. Contact the RCTB office at 800-985-0773 for an agenda.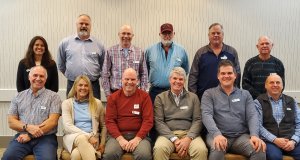 The Real Christmas Tree Board (originally the Christmas Tree Promotion Board) is a national research and promotion program whose mission is to share the benefits of fresh Christmas trees with consumers through promotion, public relations and education, while engaging in research to better serve our customers and growers.
The first board was appointed in January of 2015 by then USDA Secretary of Agriculture, Tom Vilsack. The board is made up of Christmas tree producers representing production in the east, central and west regions of the U.S., along with an importer member.
(Pictured from left front row: Bob Schaefer, Renee Beutell, Chuck Berry, Gary Westlake, Derek Ah, and Roger Beyer. Pictured from left back row: Jane Neubauer, Mike Jones, Larry Downey, Charles Fowler, Mark Schmidlin, and Mike Cocco)
Real Christmas Tree Board:
Roger Beyer, Oregon West
Mike Cocco, California West
Mike Jones, Oregon West
Bob Schaefer, Oregon West
Mark Schmidlin, Oregon West
Derek Ahl, Wisconsin Central                
Jane Neubauer, Ohio Central
Chuck Berry, Georgia Eastern
Renee Beutell, North Carolina Eastern
Charles Fowler, North Carolina Eastern
Gary Westlake, Pennsylvania Eastern
Larry Downey, Quebec, Canada Importer
Real Christmas Tree Board Officers:
Derek Ahl – Chairperson
Gary Westlake – Vice Chairperson
Bob Schaefer – Treasurer
Chuck Berry – Secretary
Those interested in serving on the Real Christmas Tree Board are required to complete a Nomination form and return it to the RCTB office by June 1.
Nomination Form (XMAS-NF) FEB20
---
Mission
Through a process of strategic planning, the board has developed both vision and mission statements that will serve to guide the board and its committees in all future decision-making; with all activities and resource allocations being held to the standard of these guiding principles.  
Vision Statement – The Real Christmas Tree Board will enhance the value and demand for cut Christmas trees creating and increasing opportunities for growers, importers and others in the industry.
Mission Statement – The RCTB is focused on improving the future of the industry by increasing the value and demand for cut Christmas trees through promotion, research and education.
---
Committee Structure
Although the board has responsibility for all decision-making for the program, much work takes place at the committee level; engaging more Christmas tree producers from around the country.  The committees will work in their assigned areas and offer their best recommendations to the board.
Promotion Committee
The Promotion Committee is chaired by Jane Neubauer and is responsible for planning and implementing promotional programs.  They recommend public relations and promotional programs to the Board for approval, and direct agency partners in executing approved programs.  
Committee Members:
Ashley Ahl, WI
Chuck Berry, GA – Vice-Chair
Renee Beutell, NC
Bill Brawley, OR
Beau Coan
Mike Cocco, CA
Kate Dodde, MI
Travis Drexler, NY
Carrie McClain, NC
Jane Neubauer, OH – Chair
Research Committee
The Research Committee is chaired by Mark Schmidlin and is responsible for planning and implementing all research programs.  This research could include consumer research, product research and more.
Committee Members: 
Derek Ahl, WI
Della Deal, NC
Larry Downey, QC, Canada – Vice-Chair
Casey Grogan, OR
Jim Heater, OR
Bob Jones, TX
Scott Powell, MI
Mark Schmidlin, OR – Chair
Matt Sexton, NC/VA
Kirk Stroda, OR
Gary Westlake, PA
Brad Wishon, NC/VA
Industry Relations
The Industry Relations Committee is chaired by Gary Westlake and is charged with undertaking all industry communications.  The committee engages with growers and importers across the country through direct mail, industry publications and electronic media.
Committee Members:
Chris Aldrich, WA
Beth Bossio, WV
Mike Cocco, CA – Vice-Chair
Travis Drexler, NY
Tom Dull, IN
Nigel Manley, NH
Amber Scott, NC
Gary Westlake, PA – Chair
Bruce Wiseman, WA
Governance
The Governance Committee is chaired by Charles Fowler and is responsible for developing policy recommendations for the board.  This includes the development of bylaws and a detailed policy and procedure manual.
Committee Members:
Charles Fowler, NC – Chair
Rex Korson, MI
Betty Malone, OR
Sherry Peele, NC
Bob Schaefer, OR – Vice-Chair
Finance Committee
The Finance Committee is chaired by Bob Schaefer and manages the board's financial planning and records.  They are responsible for developing and recommending annual budgets, providing financial reports to the RCTB and USDA and securing loans as needed.
Committee Members:
Derek Ahl, WI
Roger Beyer, OR
Bob Schaefer, OR – Chair
Gary Westlake, PA
Compliance Committee
The Compliance Committee is chaired by Renee Beutell and is charged with recommending strategies to the RCTB to encourage program compliance by growers and importers.
Committee Members:
Derek Ahl, WI 
Roger Beyer, OR
Renee Beutell, NC – Chair
Larry Downey, QC, Canada
Bob Schaefer, OR
---
Staff
The Real Christmas Tree Board has contracted with Marsha Gray and Gray Management LLC for operations management. Gray serves as the Executive Director of the RCTB and had been previously serving the RCTB as the Industry Communications and Program Director since shortly after the Board's inception in January of 2015.
Marsha brings 27 years of association management experience, including more than 14 years as the Executive Director of the Michigan Christmas Tree Association.
Cynthia Knudson serves as RCTB's Director of Research and coordinates the research proposal process, guides the committee through proposal review and works closely with funded researchers.  Cyndi is a former Extension Agent at Virginia Tech and has also worked as a Field Enumerator for USDA National Ag Statistic Service.
Jenny Tomaszewski is the RCTB Administrator and oversees office operations, database management and compliance issues.
Beth Kohn of BAK Bookkeeping provides bookkeeping services for the RCTB.